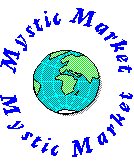 Mystic Gateway is pleased to announce its association with Amazon Books. We have selected books and/or tapes that are consistent with our message and hope our readers take full advantage of the convenience of ordering online.
We get credit for anything ordered through this site, whether a direct link or search. Proceeds will help us continue to improve this website and add new features and services.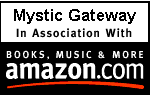 NOTE: When you click the Buy it Now button on the various product pages, you are sent directly to Amazon.Com for price, availability and more information about your selection. You can then put the item in your shopping cart if desired. If there are any other items you want to purchase from our site, just come back and select the item(s) and click the Buy it Now button. The shopping cart will remember all your selections until you are ready to check out.
General search box below:
For books and searches related to holistic healing/health, click on the links to the left.
---

E-mail us at mystic@castle.net.


TOP OF PAGE

HOME PAGE